SWEDISH CONTEMPORARY THEATRE
POTATOPOTATO PERFORMING ARTS
PotatoPotato is a performing arts company experimenting with the tools, expectations and expressions of theatre in close collaboration with other art fields - live music, dj, visual arts, film, poetry, filosophy. PotatoPotato doesnt want their shows to be a story you follow, but something you experience.

Founded in 2008 by Freja Hallberg, Paulina Göth, Linda Forsell, Helena Engberg Tunström and Jenny Möller Jensen.


NEW Space for contemporary theatre in stockholm
KONTRÄR is a new stage in central Stockholm run by PotatoPotato. KONTRÄR presents local, national and international performing art with focus on contemporary theatre. KONTRÄR is a place for experiments, new collaborations, audience development, talks, explorations and shows. KONTRÄR opened in 2022 and is found at Östgötagatan 33.
CONTACT INFO@POTATOPOTATO.SE
FOR BOOKINGS, TECHNICAL RIDERS, QUESTIONS, SUGGESTIONS OR LINKS TO DOCUMENTATION OF THE SHOWS.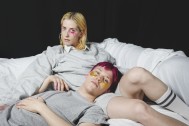 Sadland is an electronic musical, an emotional space where feelings of emptiness, bad nerves, anxiety, depression and the feeling of having lost something become the narrative.
In the performance SADLAND, we look at the world through sad culture. We look at our time from the horizon of the sad and depressed and creates a collective condition that acts as a resistance to today's neoliberal projects - where each individual is responsible for it´s own happiness and success.
We hope that this mourning song- performance will be a consolation in our desolate and capitalist world.

1 show 5 000 EURO
3 shows 12 500 EURO
+Travel expenses

TRAILER:
https://www.youtube.com/watch?v=nP6qqPka5NA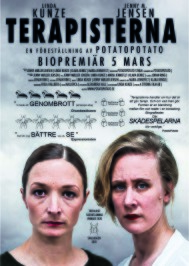 A film and theatre hybrid for Cinema

Through the film and the theater's various possibilities of expression, the Therapistas embark on an inner journey, in the middle of a difficult period in life.

A 76-minute study of the fragile and existential in being.

The show must be presented at a real Cinema.

1 show 4 000 EURO
3 shows 10 000 EURO
+Travel expenses

Premiere: 5 mars 2020, Stockholm, Sweden

TRAILER:
https://www.youtube.com/watch?v=zb4dcCuZnvA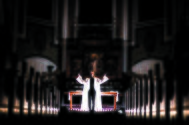 a mass made for churches

"My name is Paulina. It is a feminine form of Paul. So, I am named after the primary missionary of the original church, and founder of Christianity. And patron saint for the snake bitten.

I have not been to a church in 20 years.
But I have come here today, since the thought has returned time and time again. and, I think I should make it so.
You have gathered here today, to witness a meeting between me and my dead grandfather.
Welcome to my mass."

TO BE STAGED IN CHURCHES

Length: 1,5 hours

1 show 5 000 EURO
3 shows 12 500 EURO
+Travel expenses

TRAILER:
https://www.facebook.com/PotatoPotatoScenkonst/videos/1805426396307122/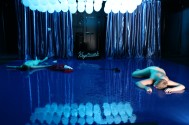 Rosemary's Babyshower is a philosophical show about carrying and giving birth. About being two bodies in one, to be one and the same organism. To be the venue for the past and the future. To exist in a gap, a parenthesis. To be the center of the world.

Rosemary's Baby Shows is a flirtation with the horror genre and a longing away from the explanatory. With dreams of animal births, highly pregnant philosophers and a maternity band, Rosemary's Babyshower takes you through the whole experience of this strange condition.

STAGE MINIMUM
8 m with, 7 m depth.

Length: 1,5 hours

1 show 5 000 EURO
3 shows 12 000 EURO
+Travel expenses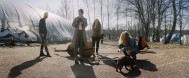 Sharp mouths, hoarse voices, bad moods and a bluegrass band. FIGHT is a four-hour-long quarrel between four actors.
FIGHT embodies all phases of the quarrel, qualities and actions. FIGHT is four hours of catharsis without peripetia, an eternal lingering disagreement. FIGHT revolves around the very core of the drama - the conflict.


STAGE MINIMUM
10 m with, 8 m depth.

Length: 4 hours

1 show 7 000 EURO
2 shows 12 000 EURO
+Travel expenses

Want more?
SOUNDTRACK from BRÅK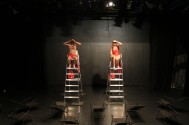 BAYWATCH takes place in two lifeguard chairs with the audience placed around in sun loungers. Two actors borrow Mitch and CJ´'s (the old 90s TV series' main characters) names, costumes and character gallery and talk for two hours about the trials of life, gossip, philosophical reflections and everyday events. At the same time, there is a constant threat and it is hot as in July.
The performance is completely improvised and is based on a long work in which the actors examined the poetic potential of everyday conversation and what it means to get to know each other in depth. BAYWATCH is a deeply personal and unfiltered conversation where the audience gets a chance to eavesdrop.

STAGE MINIMUM
8 m with, 8 m depth

Length: 2 hour

1 show 5 000 EURO
2 shows 8 000 EURO
+Travel expenses